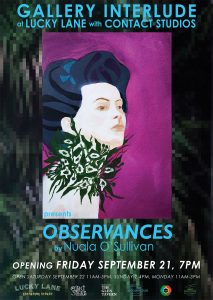 As part of my own, and Contact Studios' mission to highlight the lack of Cultural spaces and resources in Limerick, and to bring the best of Limerick based artists to the public, we will present Nuala O'Sullivan's exquisite suite of paintings in our popup gallery in Lucky Lane, Catherine St. this Friday.
It's an absolute pleasure to bring these works to the public's attention, and to hopefully bring greater recognition to a Contact stalwart, who has given so freely of her time to promote and maintain the cause of local artists, and indeed the mental health services through our previous work with Art-in-Mind, and latterly Le Chéile.
Personally, I have mixed feelings around the concept of Culture Night. On one hand it is a great opportunity for the public to see the arts, but on the other it gives a false impression that the Arts are thriving, and reinforces the idea that cultural practitioners can survive on publicity alone!
Expect some musings on this topic on the night.
Also a special shout-out to Mark and Dave (and Steve!) from Lucky Lane without which we couldn't do this project, and our sponsors Kevin O'Keefe of The Bigger Picture Framing Centre, and of course Ger Callinan and the team from The Glen Tavern.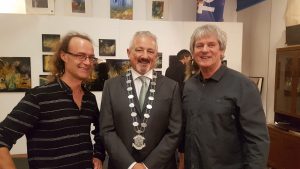 Pictured above are (l-r) myself, Deputy Mayor for Limerick Jerry O'Dea, and artist Gerry O'Mahony at his opening in Gallery Interlude.
We had a great launch for our second show, and delighted that Jerry, a councilor who has been extremely supportive of our group could come along. We also appreciated his vocal support for Limerick becoming a real city of culture in practice, from the ground up – go raibh míle maith agat!