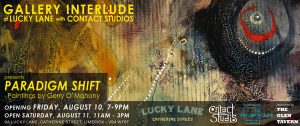 It's a great privilege for myself and the Gallery Interlude team, to play host to Gerry O'Mahony. His work is at once recognisable for its over-layering, deft application of paint and oil pastel/bars, and glass-like surface.
Gerry was, of course, a member of Contact Studios for many years, and made a significant contribution to the running of the studios, and thereby has impacted significantly on the local and national scene. Below are some biographical notes for the interested reader:
'Gerry O'Mahony, a graduate of LSAD Limerick, has lived in Ireland, Israel and Malawi. On returning to Ireland he became a member of one of Limerick's first artist collectives (All + 10 sorts) and exhibited at length with the group. He has exhibited both nationally and internationally and his work is part of private and public collections in Ireland and abroad, including Limerick County and City Councils, Government buildings, Dublin, and Berlaymont Buildings, Brussels.'
Expect a great crowd, a great show, and some great craic, followed by a few bevvies in The Glen Tavern, one of our sponsors. Our thanks also to Kevin O'Keefe of The Bigger Picture Framing Centre for his continued support!