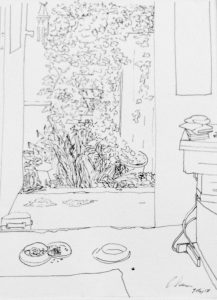 I'm delighted to be showing some new works in a group show organised by respected Limerick Painter/Printmaker Gavin Hogg, and happening in The Mews Coach House off Little Barrington St. Limerick.
The show will feature ourselves as well as fellow Contact Studios' artists Sheila Richardson, Julie Brazil, Nuala O'Sulivan and also features Stephen Murphy and Grace Roberts to complete the (magnificent) seven.
The above work I made while waiting at home for a gas meter replacement between 1-5pm (needless to say I had along wait).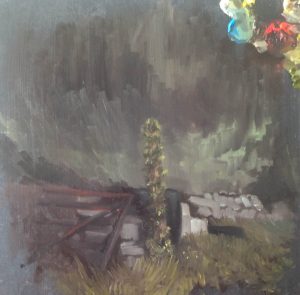 The second piece made a couple of weeks back was painted in situ in a country location in Co. Clare, courtesy of my colleague Declan Greene (a noted Landscape/plein air artist in his own right). It was completed on the spot, and I think it fits in with the theme of the show.
Many thanks to Sonya Shinkins for facilitating the show and indeed for being a super host previously.
Do come along if you're round, the show will be open Thursday 1st-Saturday 3rd, 12-6pm, and by private appointment where possible, and will be opened by John Quinn of Quinn Architects.