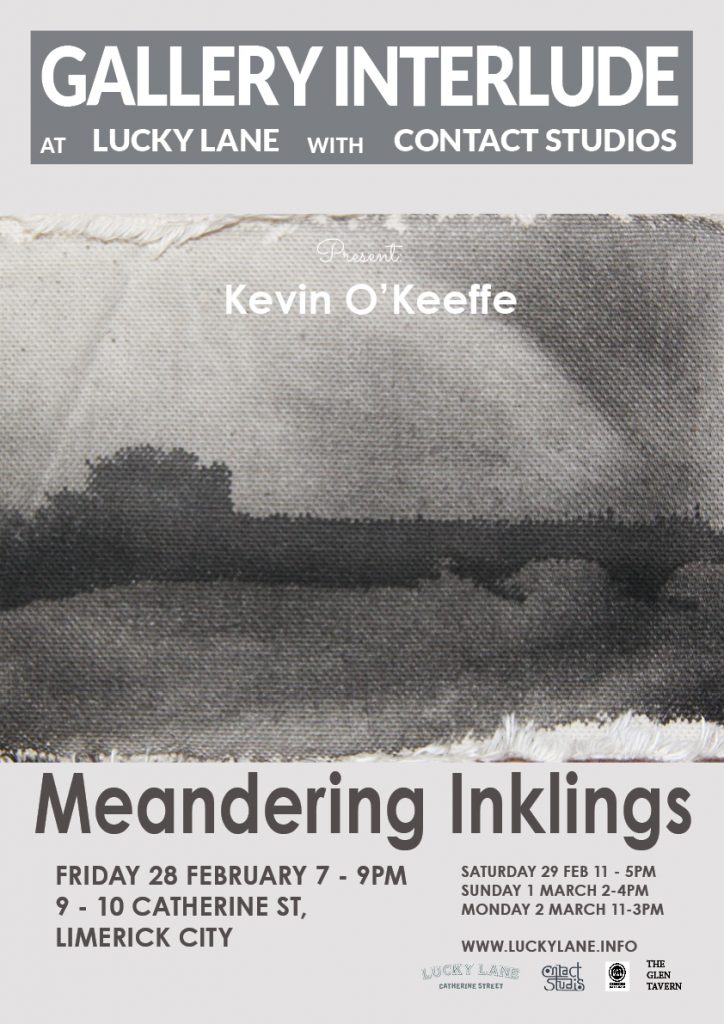 A (belated) happy and prosperous New Year to all from myself and my 'Interlude friends!
We hosted a plethora of amazing shows in partnership with our friends in Lucky Lane last year – 8 shows with 9 artists and a distinctive feel and aesthetic evident in each. This year will be no different, and we have a few surprises in store for the Limerick Public, with some announcements to be made on the occasion of Kevin 'The Spaceman' O'Keeffe's first solo Limerick exhibition this coming Friday.
Kevin (Caoimh) has been working hard to produce a new body of work – paintings/drawings on odd and discarded pieces of canvas and paper, all revolving around trees. The works themselves, which I had the pleasure of encountering last week for the first time, are playful and investigate the random nature and reactionary properties of materials i.e. just where will paint travel if left to its own devices?
Kevin has been a very influential figure on the Limerick art scene for many years – behind the formation of Fiasco&Co, an original member of Wickham St. Studios, a member of Faber Studios (and Contact Studios!), and among other things a key member of Occupy Space.
We're super happy to host this proud Corkman, and member of Luggage Doors Operating, and do hope you will join us on the night or over the weekend!
Our sincere thanks to all at Lucky Lane, and our sponsors Art Mad/Normoyle Frawley Framing and The Glen Tavern – go raibh míle míle!