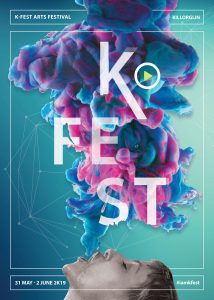 It's an honour for me to be asked to be a member of the panel for The Screaming Pope Prize, as part of KFest 2019, in Killorglin, Co. Kerry.
It was my pleasure to speak on behalf of Askeaton Contemporary Arts at a VAI event in 2017 at the KFest, and I was impressed with the dedication and vision of Neil Browne, Tricia O'Connor and many others to invigorating a town through direct action.
The prize itself for the award is 1000€, and four finalists will also receive a cash prize – fantastic for any artist!
At the end of the day, we all need to show our work to as wide and diverse an audience as possible, and KFest delivers on all levels.
Should ye find yourselves hungry for culture this June Bank Holiday, I highly recommend a visit to this fabulous Kerry Jewel!