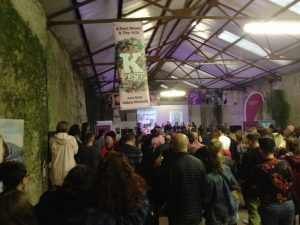 What a way to end the weekend at KFest! Above, a bad photo from the immense crowd attending the wrap up/ closing ceremony, which also featured the announcement of the Finalists, and ultimate winner of The Screaming Pope Prize, Galway based Tom Mc Clean.
I had a very engaging day before in Killorglin, investigating a myriad of artworks by near 100 artists. It was super to get a chance to talk to artists, many of them recent graduates about their work, techniques and practices – and I learned a lot myself too. The in depth conversations with Neil of the Festival Committee, and Seán Kissane of IMMA on the judging panel were also a highlight, and there were many contenders.
Kudos to the festival committee, and indeed the whole town for its openness, respect and indeed love for the event. Myself and all the guests were treated royally, and I am especially indebted to Neil Browne and Tricia O'Connor for their dedication to ensuring this, and for the incisive nature of our conversations.
KFest has many parallels with artist led initiatives around the country, not least with Askeaton Contemporary Art, and our own Contact Studios' initiatives including Gallery Interlude – bringing art directly to the community in a relevant and inclusive manner. It's all the more impressive given the limited budget – I sincerely hope funding is increased in coming years!
I'm super happy to see my old friend Dave O'Shea of The Chimera Gallery in Mullingar is hosting Tom's work this weekend also, the only pity being I can't attend. Best of luck to all!