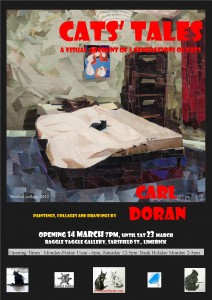 Raggle Taggle Gallery, Sarsfield St., Limerick.
From Cáit to Squealer, to the Unknown Kitten, to Mindy&Mandy, and now Squinter, this collection tells stories true and hypothetical about the lives of the cats of No.54.
For the first time the tale of Squinter will be shown consisting of new drawings, collages and an oil painting. Squinter née Squealer was one of four kittens, but was born with one eye closed, poor hearing and a poor sense of smell. As his siblings grew and ran about exploring, Squinter was left behind as they were brought into the wider world, himself unwilling/unable to join them. I would come home to find him miaow-ing facing in the garden's direction, until I arrived back one day to discover he was nowhere to be seen. Squinter's Tale is an imagining of what happened to him.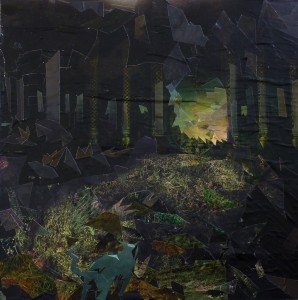 My thanks to Catriona Tierney and Limerick Post's 'For Pets Sake' feature, 9 March 2013, page 50, for their coverage of the show – greatly appreciated! Also, I am very grateful to the local vet's and Limerick Animal Welfare for allowing me to put posters/invites up for the show.
 Epilogue
We had a great launch for the show – estimated at 200 attendees – many thanks to all! Following that, there were 349 logged visitors to the show, many of whom I had illuminating and engaging chats, covering art and cats while invigilating – new tales perhaps for the future. My thanks to Kathleen Bartlett for photo's of the night.