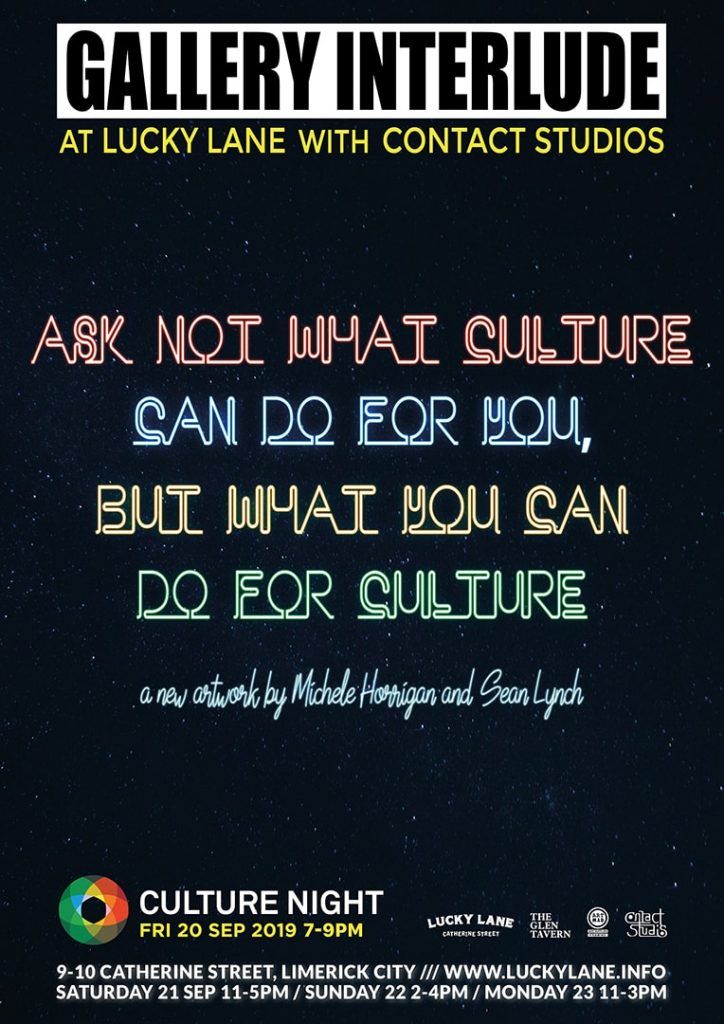 Another year, another Culture Night. Another year and event to print numerous brochures, t-shirts and balloons to inform the public that culture is intrinsic to, and of immense importance to Irish society , and just as importantly, to reassure everyone that those of us in the cultural sector are being 'looked after', much as a kind Aunt (or Granny!) might look after a stray.
What's wrong with this picture? In my own, and many other practitioners' opinions, practically everything.
Speaking in terms of my own adopted home of The Treaty City, the message rings hollow. With a population of circa 100,000 in the urban area, we have approximately 30 (!) studio spaces, no commercial gallery (bar our own Interlude) and despite numerous cultural strategies being funded and completed, we are yet to see a real effort to engage with artists/groups to conceive a way for our situation to progress.
It seems to me that this is a disservice to both practitioners and the public. Artists are denied a way to make a living and the opportunity to create and display work, while the public, who pay handsomely to both local and national government, are being shortchanged in the manner in which their hard earned taxes are being spent, by not having these funds being used in a constructive and fruitful manner.
So what do we as artists do in the face of this?
We do of course, host an exhibition on the night, and bring these questions to the fore.
ASK NOT WHAT CULTURE CAN DO FOR YOU, BUT WHAT YOU CAN DO FOR CULTURE, a new work by Contact stalworths Michele Horrigan and Seán Lynch may go some way to analysing and expressing the futility of spin and 'appearances' when approaching culture. As a starting point to the work they reference another Contact Studios' Alumnus' writings – 'The Urban Site' by Ramon Kassam.
The Interlude Team are very excited to see how the night goes, and we are delighted to see that once again, our one-shot format has helped to foster another creative vision to bring to our city.
As always, I will post an update of the night, and hope to see as many as possible there. I would sincerely like to add my thanks to our friends in Lucky Lane (and indeed sponsors The Glen Tavern and Artmad) for their support in bringing the best of independent and relevant visual art to Limerick.
Go raibh míle maith agaibh!