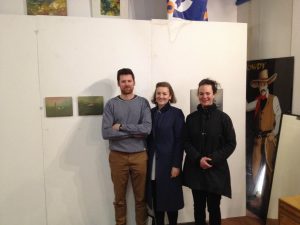 For the first exhibition of 2019 we hosted Rory 'The Dam Builder' Prout, with his fine array of amazingly subtle paintings inspired by his cycles around the countryside, and titled via Flan O'Brien's The Third Policeman.
It was a night of firsts for us at 'Interlude – our first show of 2019, the first time we had an artist travel from abroad (via Eastborne in England), and indeed, Rory's first solo show in Ireland.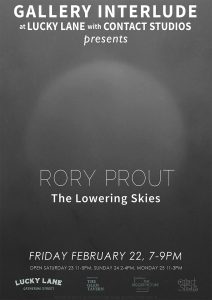 There was a fantastic turn out, and indeed a few familiar faces from the past turned up from as far away as Tipperary, Kilkenny and Dublin. We sincerely hope to see more of Rory, and his excellent work in the future, and as part of our manifesto, we will continue to show the best of art, and campaign for venues and avenues to show it in Limerick City into 2019.
As always, a million thanks to Mark, Dave, Steve and Noah of Lucky Lane, and our supporters The Bigger Picture Framing Centre and The Glen Tavern.
Go raibh míle maith agaibh ar son mise, Isabella Walsh agus Ciaran Nash (Foireann Gallery Interlude).