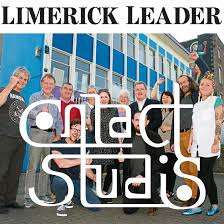 Good News Everybody!
Absolutely thrilled and delighted to have a temporary home for Contact Studios in the Cahill May Roberts building in central Limerick.
We have been talking with representatives of the Limerick City and County Council Cultural Strategic Committee for the last 10 months or so, explaining the significance of our group, and the need for autonomous, well run studios for the city. We feel that our voices have been heard, and in particular that we represent not just current members, but also every potential future user of the studios.
With FG Councillor Michael Sheahan, FG Senator Kieran O'Hanlon we visited the Cahill May Roberts building, where we met Pat Brown, who (along with Ray O'Halloran and the Council) have graciously allowed us usage of the space, until the Council have a fresh space to move into prepared.
We have had overwhelmingly positive support from many, many people, not least because of kind coverage by Nick Rabbits of the Limerick Chronicle/Leader, Rose Rushe of the Limerick Post, and Joe Nash of Limerick Live 95 FM.
A special shout out to FF Councillor Jerry O'Dea who was a good neighbour to us on Mulgrave St, and fought very hard for us with his colleague Michael Sheahan, and Josephine Cotter Coughlan Director of Services with the Council.
A very heartfelt thank you to FF Willie O'Dea also, who has interceded on our behalf several times, and effectively secured an additional 7 months in Contact (Prime).
Lastly, a massive thank you to our previous members, Arts organisations, fellow practitioners and members of the Public who have given us great support. It has meant an awful lot in our darkest hour.