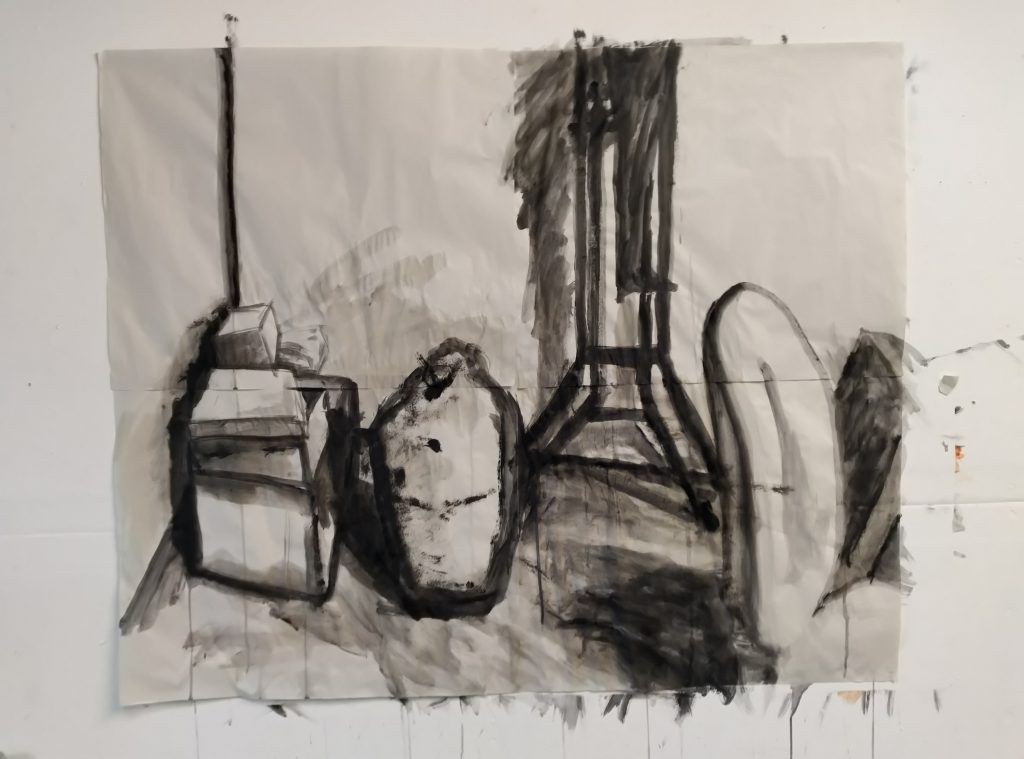 Large drawing on newsprint with acrylic.
It's been a difficult period over the last year and a half or so. Creatively, for many artists – myself included – the closing down of society and normal life has impacted the ability to think clearly, and make work.
In previous times with work and/or personal setbacks, when I have struggled in this way, I have gotten some satisfaction from lending a hand with studios, working with artists and the Gallery Interlude team , lobbying for the arts – anything in short that makes me feel I am making some meaningful contribution. It's not perfect, but it makes me sleep easier.
Being unable to do these things in the last few months have forced me into a time of introspection, querying why I am not using the resulting time for more studio work?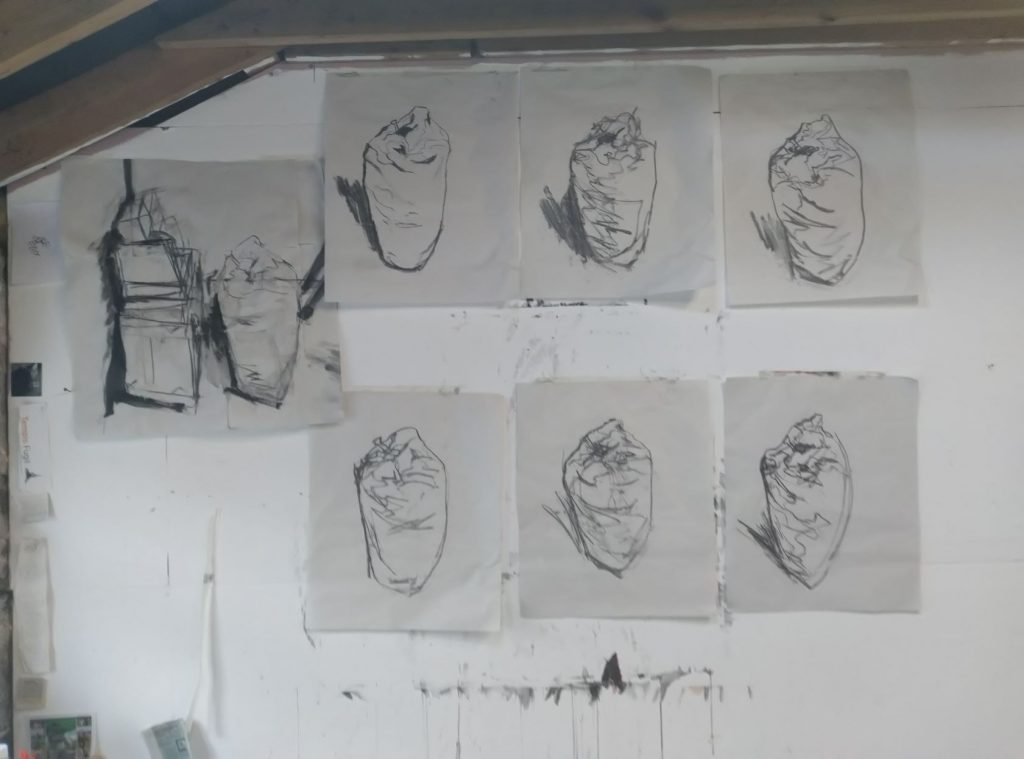 Fragment of larger drawing in charcoal and acrylic, and 6 quick gestural charcoal studies.
It's not as easy a question as it may sound. Many times over my years in Contact Studios, new members would come in, and it being awhile since practicing, would be apprehensive about whether 'it' would happen i.e. whether the old creative spirit and abilities would return?
My advice was uniformly the same – don't put pressure on yourself – you don't want to turn your time in the studio into something you dread. Begin with drawing, using low quality materials with which their is no expectation, and hopefully this will reignite your latent abilities. Lastly, and perhaps most importantly, fall into a schedule that works for you, be it morning, night, afternoon – whatever.
I'm taking my own advice over the last month, getting back to basics. I began with drawings on newsprint, with basic paint and rubbish brushes (forces you to use them better, and avoids intricacies). The subject is beside me – an adjacent studio space and its contents. These I do repeatedly, trying to understand them in a visual way – their weight/mass, negative and positive shapes. Colour is left out of the picture so to speak, as it complicates matters with too many options and concerns.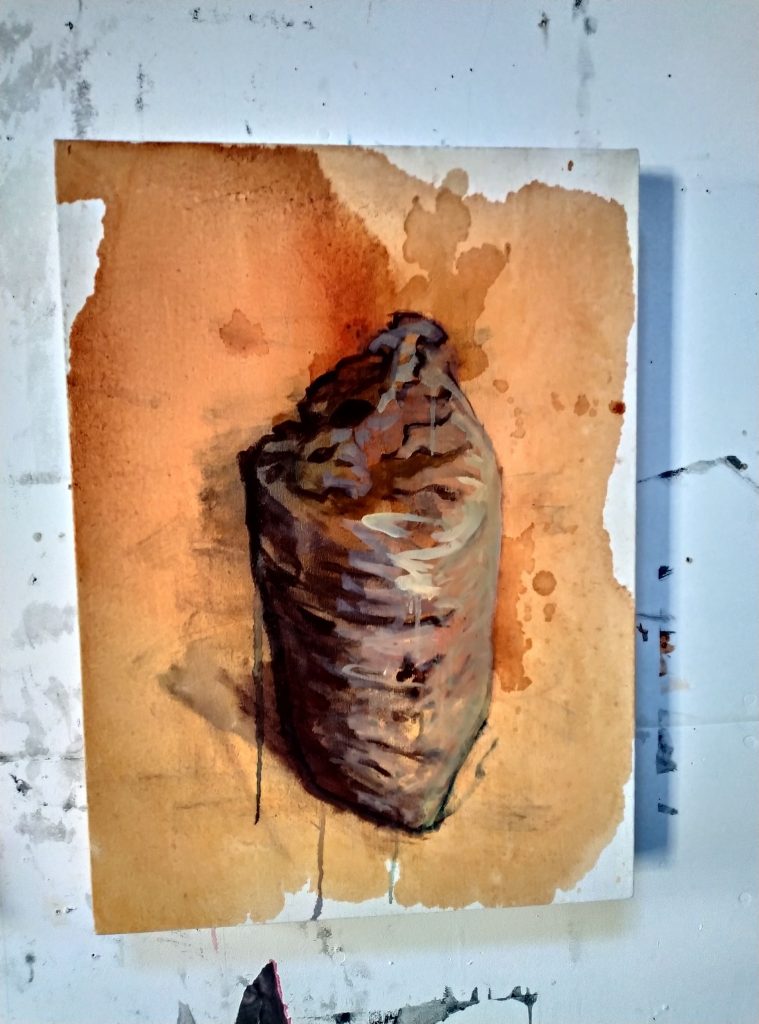 Initial layering on canvas – bag of plaster.
As I went on I became most interested in the form of a bag of plaster – trying to convey its weight and the tension on the paper wrapping the heavy dust. Moving on to working on canvas has been the next step, with its more complicating factors of under-painting, colour and all the micro actions when working with oil. It is of course early days, and as ever, time will tell whether they will work out or not, but we're back in the saddle at least, and re-learning.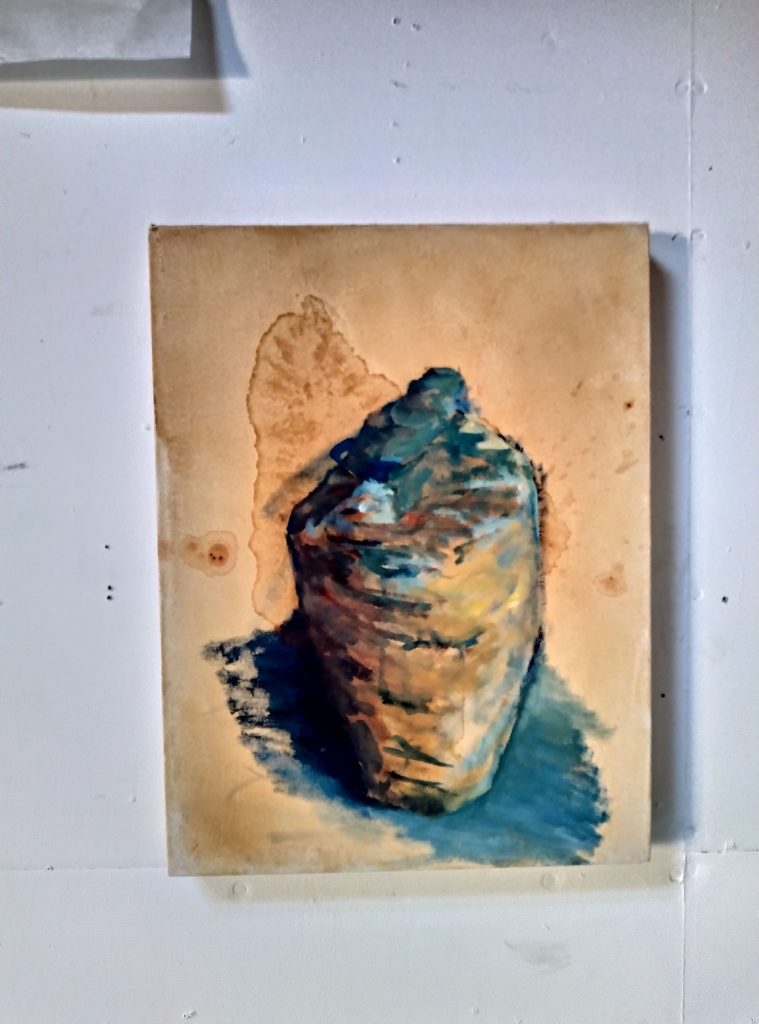 Initial layering on canvas – bag of plaster (2).
For now, we'll 'keep on keeping on like a bird that flew' as Bob Dylan says, and see how we get on.