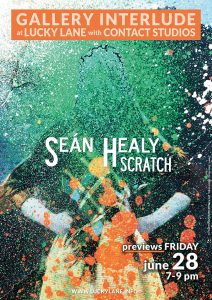 Marking a year and a week to the day to the first 'Interlude show, the team were delighted to host another unique show, composed of Painterly Interventions, artist made scratch-cards, a brand new website created for the show, and an opportunity for members of the public (and our team!), to try out Letterpress printmaking.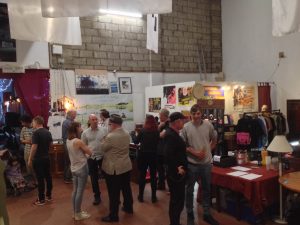 The artist in question was none other than Seán 'Rusty' Healy, who in his own words at the opening, stressed he was down in Limerick to support us, the arts community, and the Limerick community at large.
The Letterpress printing had been in the pipeline for some time, with a fact finding visit/tutorial by 'Interlude member Isabella Walsh, who also officiated on the night in that capacity. It was most enjoyable, and educational, and with each donation to the project, patrons also received a limited edition scratchcard featuring Royal heads over Treaty city landmarks – sabháiste!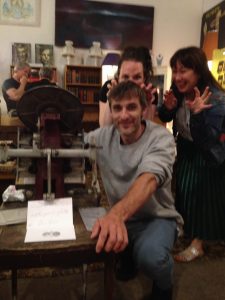 Our sincere thanks to Seán, Lucky Lane, The Glen Tavern and also to The Bigger Picture's Kevin O'Keefe for his sponsorship over the last year, which  unfortunately will be the last time in his case.
And of course go raibh míle míle to the public for your continued support!
We will return August 9th for a show by Louth's finest, Ciarán O'Sullivan.