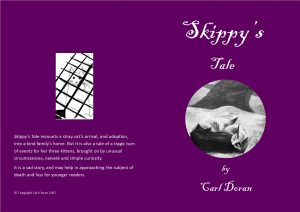 I'll launch my second illustrated book, Skippy's Tale, next Monday 10 July, during the Welcome to the Neighborhood Askeaton Contemporary Arts Festival (ACA).
I've been working on the book for over 2 1/2 years now, ever since my friend Des Hayes related the story to me, about a stray cat that his family adopted way back..
With each launch I plan to donate 2euro per book sold to a local animal charity.
My sincere gratitude to Michele Horrigan and Seán Lynch of ACA, Askeaton Civic Trust, Des Hayes & Family, Limerick City and County Council, and all others who have helped the project along the way.
Coinciding with the launch and of interest to book and art lovers, Gustavo Grandal Montero, librarian and Special Collections curator at Chelsea College of Arts and Camberwell College of Arts, London, will speak about and exhibit a collection of rare and important artist books. This event is a special and intimate opportunity to see publications by seminal artists from the 1960s such as Ed Ruscha, Dieter Roth and Daniel Spoerri, guided by Gustavo's dedicated and expert knowledge.
A Limerick City launch will follow later this month.
Gustavo Grandal Montero, librarian and Special Collections curator at Chelsea College of Arts and Camberwell College of Arts, London, speaks about and exhibits a collection of rare and important artist books. This event is a special and intimate opportunity to see publications by seminal artists from the 1960s such as Ed Ruscha, Dieter Roth and Daniel Spoerri, guided by Gustavo's dedicated and expert knowledge