Selected by panel, the University of Limerick approached me around October last to produce a work to be included in their collection. It's a great honour for me, and I was absolutely thrilled. After 4/5 months work, I was happy to hand it in to Normoyle&Frawley Framers before it lands at its final destination.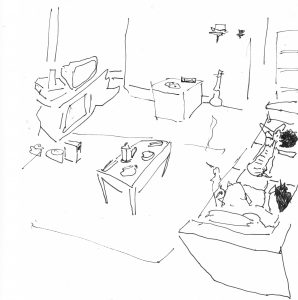 I often think that we're more the sum of our parts when it comes to being identifiable- where we live, what we own, who our friends are. I wanted to construct something that did a bit more than just relay facial structure or hair colour, for example.
I did a quick sketch, an idea for a collage(above), with the intention of creating a mini collection of things in my front room – paintings, musical instruments, favorite mug and of course, my cat friends, who like to be in as much as possible.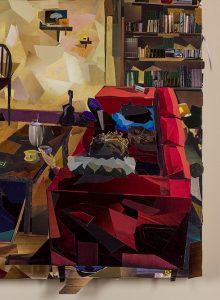 As the piece progressed there were changes, but here is a cropped version (we'll wait 'til it's officially unveiled!). This represents about the bottom right 1/4 of the piece.
Watch this space for info on the unveiling, scheduled for this June!!!