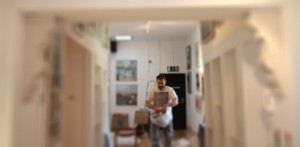 The Chimera Gallery in my hometown of Mullingar, Co.Westmeath have kindly agreed to facilitate the Midlands launch of my illustrated story, Mathilda & the Belligerent Blackbird. The event itself will be a casual affair and open to all in the surrounds of the spacious and well lit gallery, which houses some great contemporary art and craft (particularly paintings and ceramics).
I called into Dave O'Shea the proprietor a number of months ago, on the advice of my good friend Gemma Dardis a Ceramicist based in Limerick, but from Westmeath. She recommended the ethos of the man and the venue, and I concur. Dave has been very gracious in providing this platform, and I wish him every success, and I would thoroughly recommend regular visits to the emporium.
On a side note, the aforementioned Gemma Dardis will have her own show of ceramics in the Chimera in October, for which my band Luggage Doors Operating will provide a live soundtrack of sorts. Given Gemma's love of Joe Dolan, expect some sort of tribute to him at some stage (practice going well of course!).
32 Oliver Plunkett St, Mullingar, Co. Westmeath
087 803 8357